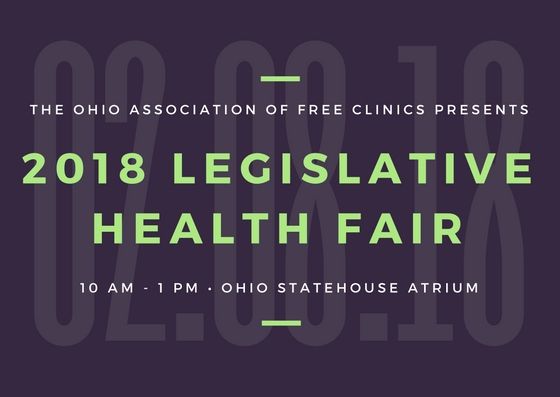 On February 8, 2018, the Ohio Association of Free Clinics will be hosting a legislative health fair in the Atrium of the Ohio Statehouse to connect legislators with the free clinics that serve thousands of Ohioans every year. The legislative health fair will feature clinics performing general health check services such as blood pressure screenings and blood sugar tests or a service unique to their clinic, such as physical therapy or vision screenings. While visiting tables, legislators can get a health check while talking to clinics directly about key issues that affect their patients, communities, and the state as a whole.
Healthcare has changed much in the past few years and will continue to change in the coming year, and free clinics are a vital providers of healthcare in Ohio. 2018 will be a year of growth and change, for Ohio and for the Association. Let's start a conversation about just how important our clinics are.
Boxed lunches provided to those who register!
Clinics: One registration per clinic please! Register everyone together.
Legislators: RSVP by February 2 and you can have the opportunity to write up to 250 word message to be published in a special legislative edition of the OAFC newsletter. It's a chance to share directly your thoughts and plans to constituents in your district and to Ohioans around the state.
Click HERE to view the Calendar Event 
CONTACT INFO
 Beth Collier
 614-914-6458x5